Not to be dramatic but this is the best recipe I have created ever.

I made 3 batches in the span of 5 days because I kept eating them lol. (One day I literally ate half a batch for lunch. Yolo. Don't pretend you haven't done that before.)

They taste exactly like real cookie dough, contain only 6 ingredients and the best part.... are completely sugar-free. Along with vegan, dairy-free, soy-free and gluten-free!
If you want to see a video of me making these where I only swear a handful of times, check out my Instagram.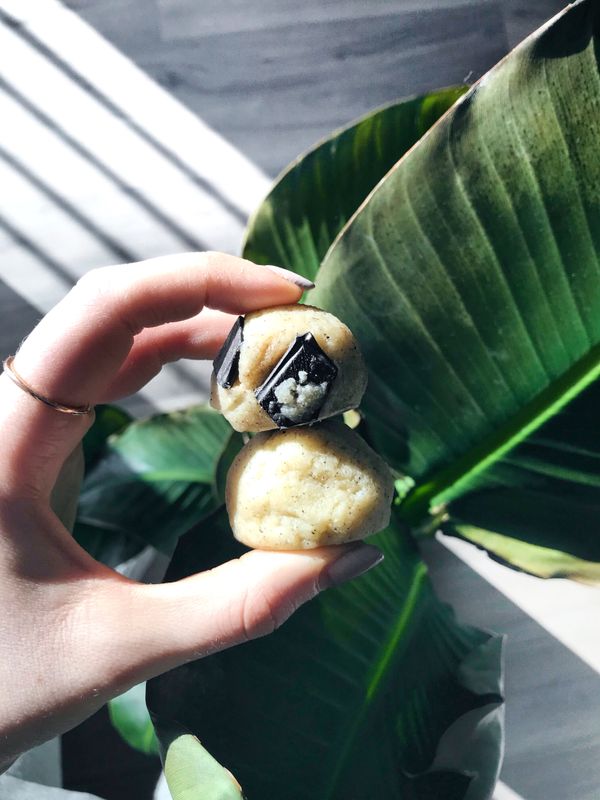 Ingredients:
+ 1 cup almond flour (I use Costco Kirkland Brand)
+ 2 scoops Vital Proteins Vanilla Collagen or 1.5 scoops Nuzest Vanilla Protein*
+ 1/4 cup coconut oil, melted 
+ 1 tsp. Vanilla Extract
+ 2 tbsp. unsweetened non-dairy milk (I used cashew)
+ Pinch of Salt
+ 1/2 bar of chocolate, chopped (I used Lindt 99%) *

How-To:
1) Add all ingredients, except chocolate, to a medium sized mixing bowl.
2)  Mix until well combined and a dough consistency is formed. If mixture is dry, slowly add more milk.
3) Now add chopped chocolate and mix again.
4) Form into 12-15 balls and place onto a baking sheet or plate.
5) Set in the fridge for 20 minutes.
Store in a sealed container in the fridge for a week or freezer for longer.
* You may substitute for chocolate chips, however, depending on the type you use, the balls may not be not be sugar free anymore!
Enjoy!
xoxo, Amanda